In this blog, you are going to read a piece of brief information about search engine positioning.
If you are looking to increase the ranking of your website and want to get more traffic, and more leads then search engine Placement is a very important role in this. Search engine position help in increasing the ranking of web pages in the top10 search result of google.
What is Search Engine Positioning?
The technique of continuously improving web pages in order to attain higher (or more numerous) rankings in search engines for specific keywords is known as search engine positioning.
Search engine positioning is a subcategory of search engine optimization that focuses on improving page ranks rather than working on sitewide technical SEO improvements or selecting keywords to optimize for. Within SEO, search engine positioning is a specialized talent.
If you want to attract more organic traffic to your website, you may solely rely on Search Engine Optimization. It's true that the websites that appear on the first page of the search results get a lot of traffic. And sales will be picked up by these major sites.
A website that does not draw a large number of visitors will appear near the bottom of the search results page. How can you get your website to rank in the top 10 results and get more visitors? The answer to these questions is single. It's SEO, which stands for "search engine optimization." A website that has been structured using SEO tactics will almost certainly rank first in search engine results.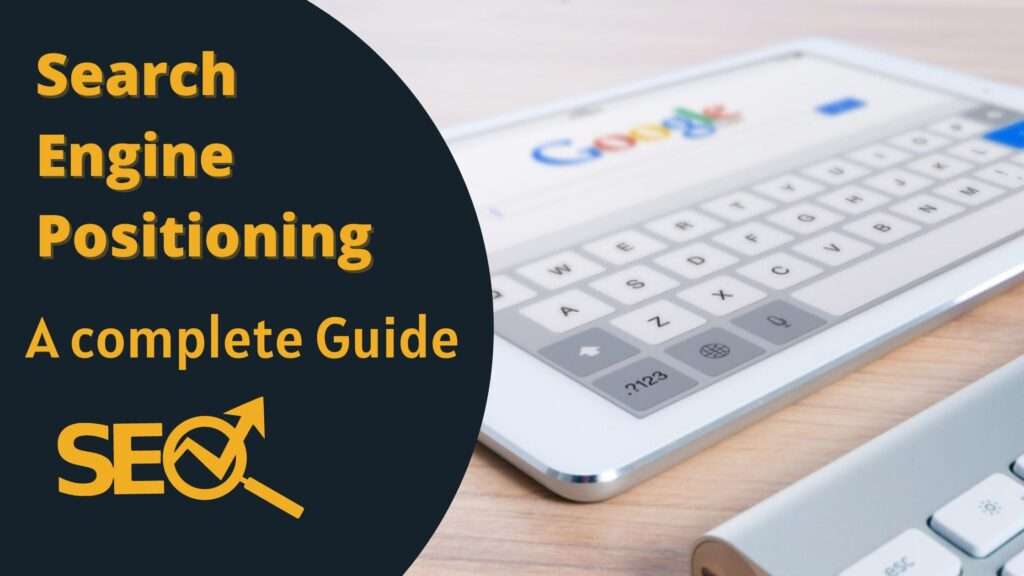 How is Search Engine Position Different from Search Engine Optimization?
SEO refers to everything you do to get your material to the top of the search results page, whereas search engine positioning refers to the tactics you use to get your pages to the top of the search results page as quickly as possible. Consider it this way: if SEO is like constructing a piano, search engine optimization is like tuning the strings.
1. Updating Content Regularly
Creating relevant content for your website is the most key aspect to consider. Every website's rank is determined and fixed by its content. The content should be unique, relevant to your industry, and incorporate a keyword.
The content should be updated on a regular basis with current information. Search engine spiders are continuously attracted to new and current content. The term should be appropriately distributed throughout the material and should not appear spammy. In your text, you should keep the proper quantity of keyword density.
2. Create high-Quality Links
Obtaining high-quality links from other websites or blogs is an excellent technique to impress search engine spiders. Link building is both cost-effective and an organic technique to drive traffic to your website. Article submissions, blog posting, forum posting, email marketing, video marketing, social bookmarking sites, and other methods can all be used to build backlinks to your site.
3. Create Links from Other Blogging Platforms
Blogging is comparable to article writing, but there are some differences. You can either start your own blog or contribute to other bloggers' blogs by posting a backlink. Blogs will contribute to the improvement of your search engine ranking and the acquisition of new clients. You should update the blog's postings on a regular basis to improve performance. The information should be useful to the general audience.
4. Use Images to Improve Search Engine Visibility
Images play a very effective role in search engine Visibility. Images improve the User Experience. For getting good results Optimize the image for SEO.
If the size of the images is high its increases the time of loading a page which gives a negative ranking factor to google and the ranking of the webpage is dropped. Before uploading images compress the size of the image in image compression tools so that they load faster.
Also, Including keywords in the Alt Tag and Anchor Tag of an image on your webpage will draw the attention of search engine robots.
5. Use of Keywords in Domain
Many companies ignore the importance of including the keyword in their domain name as well as the username they use to sign up for social bookmarking sites.
The targeting term should be included in the username everywhere you use it, whether it's for blog comments or social networking sites. The keyword should appear in the anchor text as well.
6. Internal Linking
Now that your page has improved greatly, it's time to add internal links pointing to it.
Internal links should be added to authority pages on your website. Also, have those links point to pages that need to be boosted in the rankings. You most likely already know which pages on your site have the highest link authority.
The only other thing to bear in mind is that your internal links should have keyword-rich anchor text. That's because the anchor text you provide tells Google that your website is "about" the phrase you want to target.
To link pages, use descriptive anchor text.
7. Optimize Post For Higher CTR
The organic click-through rate (CTR) is used by Google to determine which results are the most relevant. And which don't seem to be a suitable match for that keyword.
(It's worth noting that not every SEO professional agrees with this viewpoint.)
For example:
This page on my site is ranked #8 in Google according to the Google Search Console. It also has a CTR of roughly 3%.
Average CTR and position in Google Search Console
And if I could increase the CTR to 5% or even 7%, that would send a strong signal to Google that people are interested in visiting my site. They'd probably move me up a few spots as well.

On the other hand, if My CTR dropped to 1%, it would send the opposite message. "People don't want to see this site in the results for this keyword," it would inform Google. As a result, they'd most likely link me to page 2 or 3.
8. Improve website speed
The speed of a web page is a very important ranking factor. Here are some suggestions for reducing the time it takes for your website to load:
Check the speed of your website.
The first step is to analyze the speed of your website.
Here are two of the greatest tools for determining the speed of your website:
if your page loads in 1.5–2 seconds its regarded as an excellent site speed
The speed of your website is influenced by two key factors:
The content you publish on your web pages the way your web host has arranged their servers
The first item is something over which you have little influence (except to change web host).
However, you have control over the second item.
How can You make your website load faster?
The most important locations where you may improve the speed of your website are:
image size reduction
use a content delivery network (CDN)
Reduce the number of HTTP requests
minimize the number of plugins on your site
minify CSS and Javascript
and enable HTTP/2
The best way to fix these difficulties are:
(1) Use a performance optimization plugin like WP Rocket
(2) use a content delivery network like StackPath
(3) use an image optimization plugin like Short Pixel or Imagify
Conclusion: Search Engine Positioning
search engine positioning is the process of optimizing individual web pages to gain a higher search rating for specific keywords. It is important for any organization, blog, and eCommerce site because it has a direct impact on website traffic.
The number of visitors that visit your web pages will increase if you are strategic and prepare ahead, which will lead to higher conversion. The bottom line is that search engine optimization is critical for any online business, and this book has provided you with all of the tools you'll need to improve your rankings!